Neurological & Musculoskeletal Exams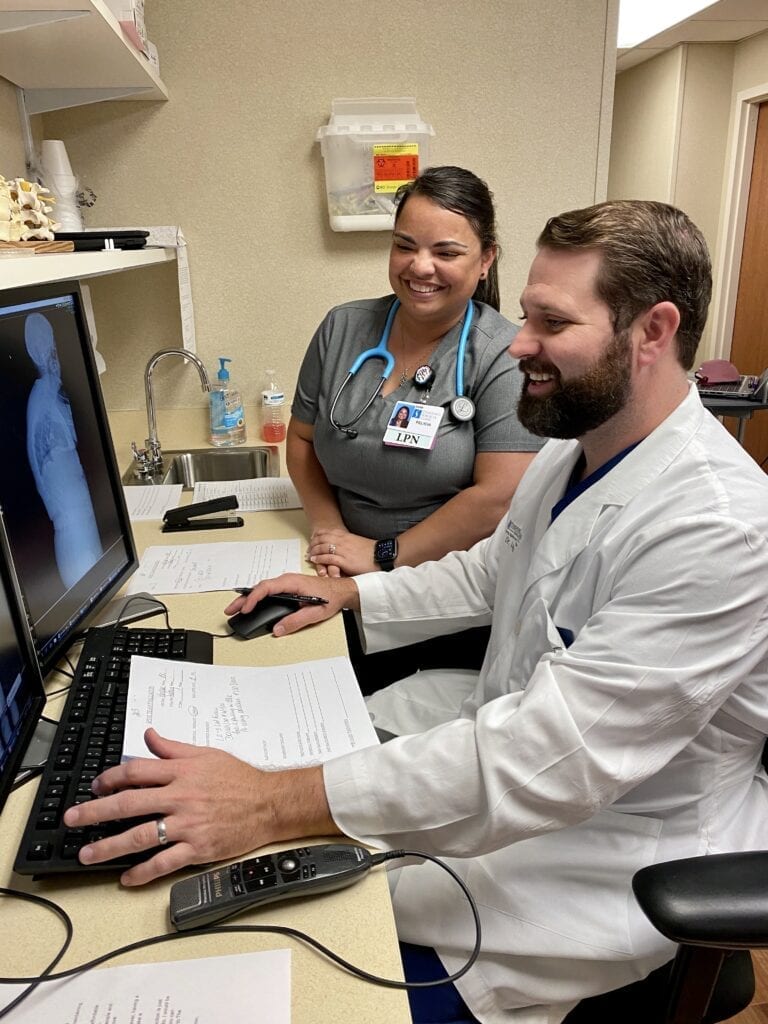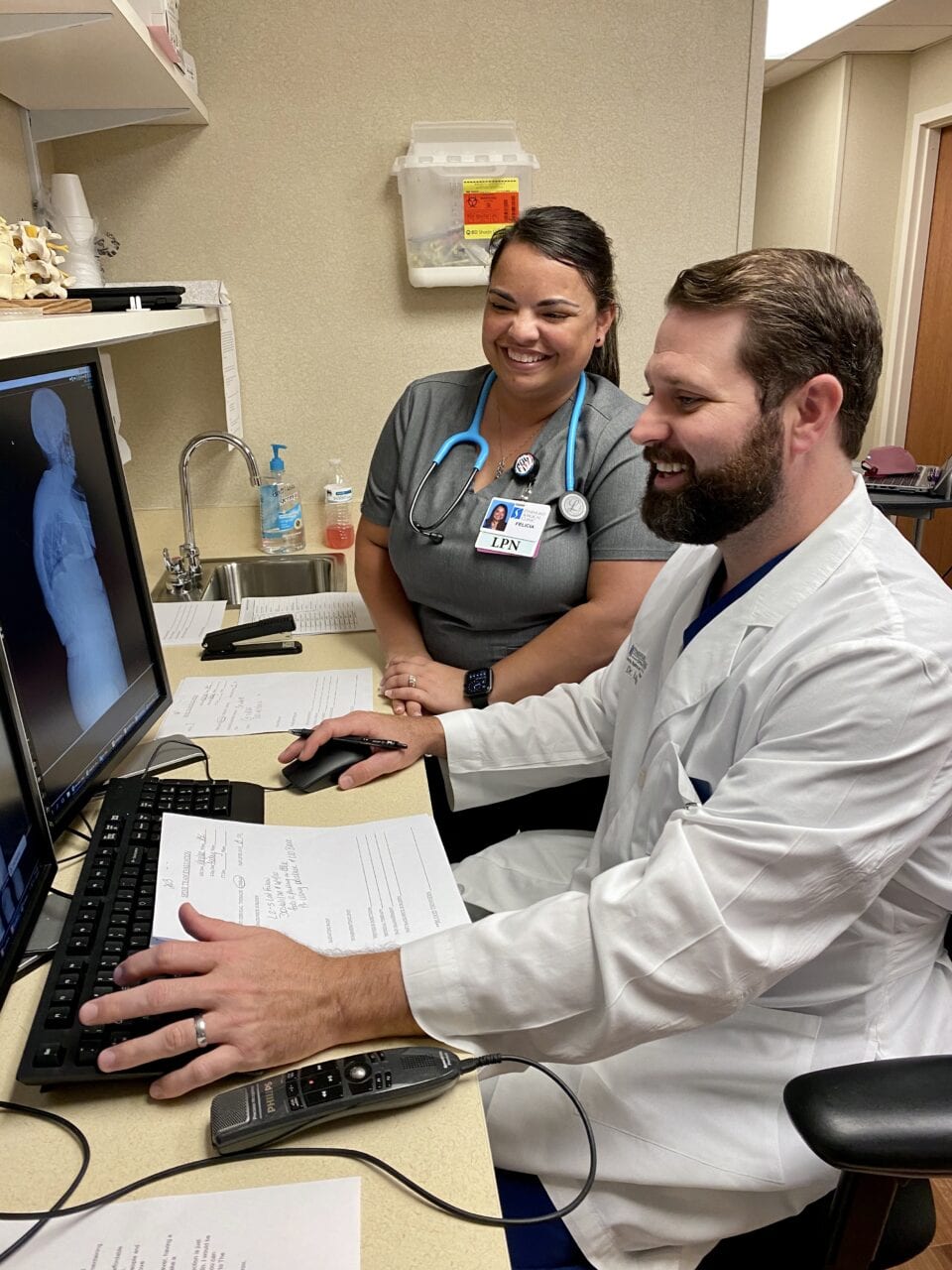 When it comes to interventional pain management, a neurological and musculoskeletal test is often necessary to correctly diagnose and treat acute pain problems.
At Pinehurst Surgical Clinic, our pain management staff provides a selection of neuromuscular examinations to diagnose various pain-related issues, including ulnar neuropathy and carpal tunnel syndrome. Our board-certified pain doctors deliver only the most thoughtful medical care to help treat all of our pain management patients in Southern Pines, Fayetteville, Sanford and surrounding areas in North and South Carolina.
Effective Treatments for Elbow Pain, Arm Pain & More
If you are experiencing pain or numbness in your arm, hand or elbow, you may be suffering from ulnar neuropathy — a fairly common condition that can typically be easily and effectively treated by our Pinehurst, NC pain specialists.
What is Ulnar Neuropathy?
Ulnar neuropathy is an inflammation or compression of the ulnar nerve, resulting in numbness, tingling and pain in the outer side of the arm and hand near the little finger. In more advanced cases, weakness or loss of muscle in the hand may also occur. In addition, elbow pain may be very frequent and many will experience a sharp, shooting pain down the arm.
To confirm a diagnosis of ulnar neuropathy, your Pinehurst Surgical Clinic pain specialist will perform a thorough examination of the arm and hand — this may include an evaluation of strength and sensation, as well as electromyography (EMG) or a nerve conduction study (NCV).
Ulnar neuropathy treatment typically consists of conservative pain management, such as avoidance of postures that may injure the nerve and wearing a protective pad on the elbow. If symptoms persist, you may be referred to one of our Pinehurst, NC spine surgeons.
What is Carpal Tunnel Syndrome?
Are you experiencing moderate to severe pain in your hand or wrist? A burning sensation in your middle or index fingers or a numbness in your thumb or other fingers?
If any of these signs and symptoms sound familiar, you may be suffering from carpal tunnel syndrome — a common occupational disease often associated with pregnancy, diabetes, menopause, broken or dislocated bones in the wrist, and obesity.
Carpal tunnel syndrome is a common problem that affects the use of your hand, often resulting from repetitive movements, such as typing on a keyboard, as well as forceful grasping with the hands, bending of the wrist, and arthritis.
Diagnosing & Treating Carpal Tunnel
To properly diagnose and treat carpal tunnel syndrome, your Pinehurst, NC pain doctor will perform a thorough evaluation of your condition, including a medical history, physical examination and possible diagnostic tests, such as X-rays, EMGs or NCVs. The physical examination will include an assessment of sensation, strength and reflexes in your hand.
Conservative (Non-Surgical) Treatments
The main purpose of conservative treatment for carpal tunnel syndrome is to reduce or eliminate repetitive injury to the median nerve.
In some cases, carpal tunnel syndrome can be treated by immobilizing the wrist in a splint to minimize or stop pressure on the nerves.
If that does not work, patients are sometimes prescribed anti-inflammatory medications or cortisone injections in the wrist to reduce swelling.
One of our Pinehurst physical therapists may also suggest specific types of hand and wrist exercises.
*Conservative treatment methods may continue for up to eight weeks.
Surgical Treatments
Only a small percentage of our carpal tunnel patients require surgery. If you are experiencing severe pain that cannot be relieved through rest, rehabilitation or non-surgical treatment, you may be a candidate for one of several surgical procedures that can be performed to relieve pressure on the median nerve.
The most common procedure we perform at Pinehurst Surgical Clinic is called carpal tunnel release, which can be performed using an open incision or endoscopic techniques. After surgery, a dressing will be applied to your hand or hands — if two bandages are applied, you may require extra assistance at home with everyday activities. You will notice that the pain and numbness begins to improve after surgery, but you may have tenderness in the area of the incision for several months.
Recurrence of symptoms after surgery for carpal tunnel syndrome is rare, occurring in less than 5 percent of patients, and a majority of patients recover completely.
---
Pinehurst Surgical Clinic is a multi-specialty clinic comprised of ten specialty centers located in a state-of-the-art surgical facility in Pinehurst, NC. Our Pinehurst and Sanford clinical offices offer a variety of neurological and musculoskeletal exams to patients in Southern Pines, Fayetteville, Red Springs, and all surrounding areas throughout North Carolina, South Carolina, and beyond.
​