Insurance Information for Our Patients in Pinehurst, Sanford, Troy, Rockingham, Laurinburg, and Raeford
When you register with our Pinehurst, NC surgical clinic, please make sure that you provide us with your most up-to-date demographic and insurance information. We will request a copy of your insurance cards for your electronic health record and our billing system. If your insurance information should change at any point, please contact our office so we can file your services to the proper insurance carrier for payment.
It is your responsibility as the patient to provide Pinehurst Surgical Clinic with complete and correct insurance information. If the appropriate insurance information is not presented to Pinehurst Surgical Clinic prior to or at the time of service to bill on your behalf, we will be forced to bill you directly for the services provided.
Simplifying the Insurance Process
For ease and efficiency of service, we ask that our patients seek to understand their individual insurance coverage and benefits prior to obtaining physician or hospital services with Pinehurst Surgical Clinic and follow the guidelines laid out within their insurance policies. Please be aware of authorization requirements for professional services, copayments, coinsurance, and deductible amounts.
Understanding your benefits helps us ensure your billing information is correct and that your charges will be paid or responded to by the insurance company. Please contact your insurance company directly if you have any questions or concerns about your coverage or policy limitations.
Requirements & Recommendations for NC Medicare Patients
If you have chosen a Medicare Advantage plan it is extremely important that you present the appropriate card to our staff when you come in for your appointment at Pinehurst Surgical Clinic. Only those patients with traditional Medicare should present their red, white and blue card. This will enable our staff to file your charges to the correct Medicare insurance carrier.
Payment Information
We respectfully request timely payments to your account. We require that you pay what you owe for our clinical services as noted on your personal billing statement. If you feel that there is a discrepancy with your statement, please call us at (910) 235-6831 and ask for Patient Accounts.
If your bill has not been paid in a timely manner, we may require assistance from you and/or your insurance company. The insurance company will normally send a letter to you or there will be a notation on the insurance explanation of benefits asking for patient information. If you see either of these requests from your insurance company, please respond in a prompt manner so the insurance carrier will process your claim. Ultimately, it is the patient's responsibility to make sure his or her account is paid in full.
Pinehurst Surgical Clinic's Preferred Insurance Providers
Pinehurst Surgical Clinic partners with a number of common insurance plans. For more information about the insurances we contract with, please refer to the the list below or feel free to contact us: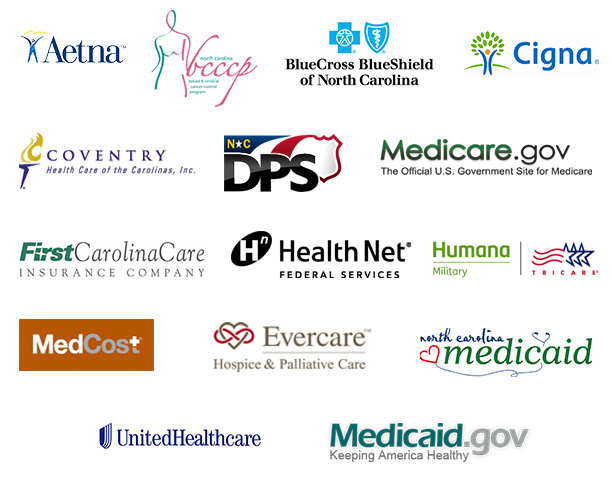 Additional insurance providers include:
Perdue (Aetna Administered)
Hospice
Worker's Comp