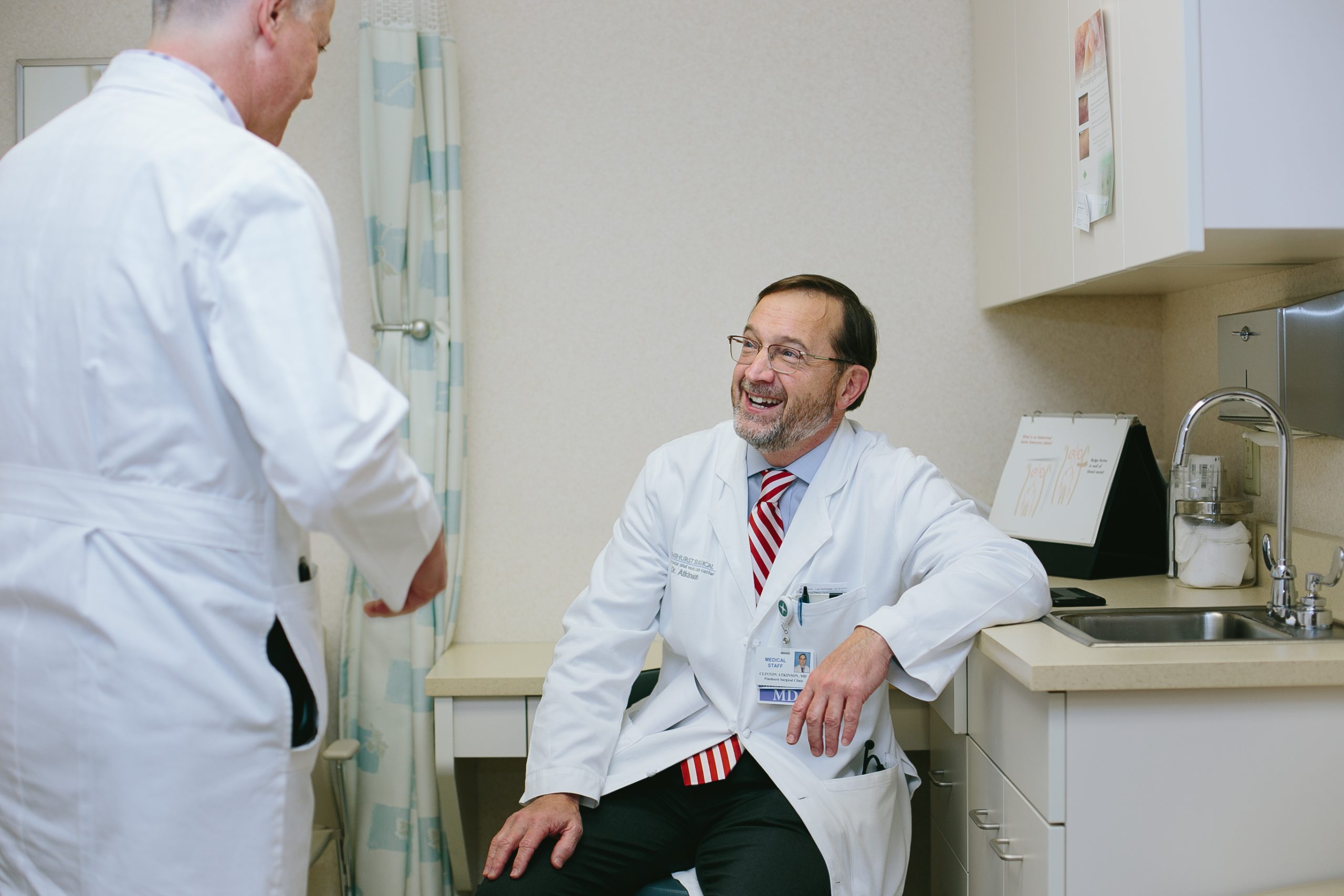 Vascular Diagnostic Tests
Located in Sanford, Hoke, and Pinehurst, Pinehurst Surgical Clinic Vascular & Vein Care proudly is the only IAC-accredited lab in the region with sonographers that specialize in vascular studies. Most vascular studies are performed in-office, often same day as appointment. Vascular & Vein Care offers a variety of tests used to effectively diagnose venous and vascular diseases and various related conditions, including:
Vascular ultrasounds in our ICAVL Accredited Vascular Laboratory
Angiograms – not performed in office, hospital only
CTA scans
What is a Vascular Ultrasound?
Ultrasounds are important tools used in the diagnosis and detection of various medical conditions. A vascular ultrasound in particular is used to monitor blood flow in the veins and arteries, helping locate blood clots, blockages and more.
All vascular ultrasounds performed at Pinehurst Surgical Clinic are non-invasive, which means the procedure will not require the use of needles, dyes, radiation or anesthesia. Each exam will be performed by a certified ultrasound technician.
Explore the list of vascular ultrasounds and other related procedures used to diagnose various vascular and vein issues below:
Carotid duplex – Used to evaluate the carotid arteries located in the neck that feed the brain with blood
Vein mapping – Used to evaluate the veins that carry blood to the heart from the legs or arms
Arterial duplex – Used to evaluate the arteries that feed the arms and legs with blood
Arterial pressures and waveforms (PVR) – Used to evaluate the arteries that supply the arms and legs with blood and locate areas of blockage within the arteries
Iliac artery duplex – Used to evaluate the blood vessels that bring blood to and away from your abdominal organs, such as the kidneys and intestines
Aorta ultrasound – Used to evaluate the internal organs, such as liver, gallbladder, kidneys, aorta, spleen and pancreas
Venous duplex
Abdominal vascular duplex
Renal duplex
Mesenteric duplex
Detect Blood Flow Abnormalities with Pinehurst Surgical Clinic Angiography
Angiograms are diagnostic tools that allow direct visualization of blood vessels in the body. They are generally performed to detect abnormalities of the blood vessels or to evaluate the blood supply to various organs in the body.
---
Pinehurst Surgical Clinic is a multi-specialty clinic comprised of ten specialty centers located in a state-of-the-art surgical facility in Pinehurst, NC. Our board-certified vascular surgeons offer several vascular diagnostic testing procedures at our Pinehurst, Laurinburg, Hamlet and Sanford clinical offices, serving patients in Southern Pines, Fayetteville, Red Springs and all surrounding areas throughout North Carolina, South Carolina, and beyond.