1957 | Baby Makes Two: OB/GYN Department Is Formed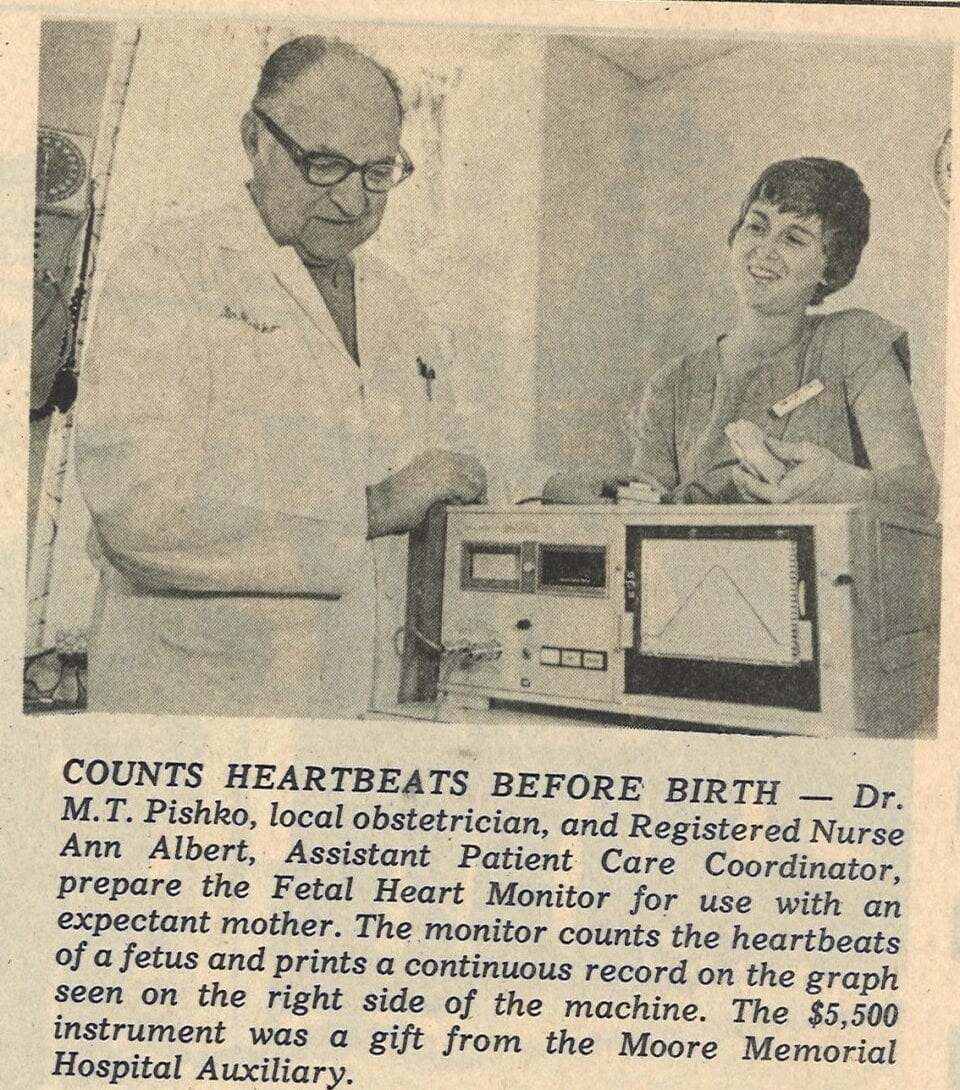 In the early 1900s there was no such thing as a specialty, and both doctors and surgeons would perform all-encompassing services to ensure the needs of the population were met. This rang true in Pinehurst. Both Dr. Clement Monroe and Dr. Michael Pishko, performed Obstetrics and Gynecology duties in between their other surgeries and clinical obligations at the hospital.
However, Dr. Pishko's heart belonged to in the OB/GYN specialty, which was something Dr. Monroe noticed. "Within three years we called him a one-man hospital. He was a pediatrician, surgeon, and he could do it all well but I could see he was leaning towards OB/GYN. We badly needed that specialty, and so we pushed him towards it," Dr. Monroe was quoted as saying. While the OB/GYN department was officially founded later, when an additional surgeon arrived to assist him, Dr. Pishko is widely credited as the first OB/GYN surgeon on staff.
In Dr. Pishko's long tenure he delivered more than 10,000 babies, and was highly regarded by all who worked with him. His influence stretched far beyond the walls of his exam rooms. His impact on his partners was significant, "I remember the most impressive thing I saw was when Dr. Pishko learned laparoscopy at the age of 63. He was always ready to learn something new. Every morning Dr. Pishko would walk his dog and listen to a training tape to keep abreast of the latest procedures," fellow OB/GYN partner, Dr. Jerry Smith, explained. Dr. Kirby Kilpatrick, who worked as a partner in the OB/GYN department with Dr. Pishko, described him as a tough but compassionate physician, and a brilliant fellow as well.
Since the clinic officially considered Dr. Pishko both a general surgeon and an OB/GYN specialist, it wasn't until Dr. William Allen joined the clinic in 1957 that the department was officially born. He would work with Dr. Pishko until 1977, and in that time, both Dr. Kilpatrick and Dr. Jerry Smith would join the group (in 1974 and 1970 respectively). These four are considered to be the original OB/GYN partners at Pinehurst Surgical Clinic, setting the stage for the growth and expansion of the department to what it is today, the Women's Care Center at Pinehurst Surgical Clinic.
Besides being one of the original departments, the OB/GYN department also holds the recognition of hiring the first female surgeon at Pinehurst Surgical Clinic, Dr. Cile Williamson. As they grew, they also brought on more specialists. Dr. Clifford Long joined in 1981, specializing in GYN urology and pelvic floor reconstruction. Dr. Bill Terry and Dr. William Johnstone became team members in 1992 and 1993 respectively. While Dr. Terry brought laparoscopic surgery to Pinehurst Surgical Clinic, Dr. Johnstone introduced an even more specialized approach to the clinic, which was further influenced when Dr. Stephen Szabo arrived in 1998.
Overall, the OB/GYN department is one of the longest standing departments at Pinehurst Surgical Clinic, and for good reason. Current partners include: Dr. Terry, Dr. Szabo, Dr. Shayna Jones, Nadya Lally, MSN, RN, FNP-BC, Lissette Machin, MD, FACOG, Dr. Taylor McCauley, Chelsea Mitek, WHNP, Paige Resor, FNP, Midwife, Lillian Schnitzer, DNP, FNP-C, and Lindsey M. Vallet, MSN, NNP-BC, FNP. The advancements they provide the clinic are known nationwide, and they continue to grow today.