Best of the Pines Nominations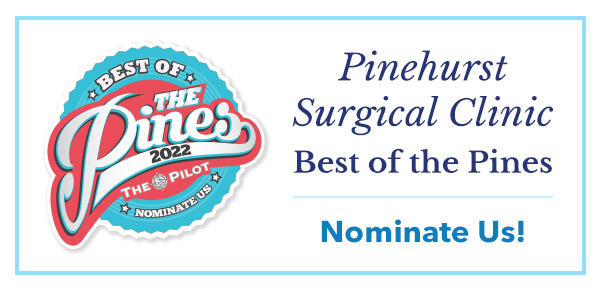 At Pinehurst Surgical Clinic, we are proud to contribute to our community. This year, we are once again hoping to be nominated for Best of the Pines, an honor given by The Pilot to local businesses that make our area a better place. There are many worthy businesses that bring immense value to the Pinehurst area, and we hope to be counted among those.
With compassion and high-quality care, we hope to continue serving patients for years to come. Please consider nominating us for The Best of the Pines for any of the categories below!
Pinehurst Surgical Clinic – Best Workplace – (910) 295-6831
The Pinehurst Surgical Ophthalmology Department- Ophthalmology – Best Ophthalmology/Optometry Practice – (910) 215-2647
The Pinehurst Surgical Clinic Audiology Department – Best Hearing Care Facility – (910) 295-0243
The Pinehurst Surgical Clinic Plastics Department – Best Plastic Surgery Practice, Best Injectables or Fillers, Best Facial and Skincare Services – (855) 294-BODY (2639)
The Pinehurst Surgical Clinic Physical Therapy Department – Best Physical Therapy Practice – (910) 235-2713
To nominate us for one of these categories, visit bestofthepines.com, and to experience our top-tier care, you can make an appointment today!