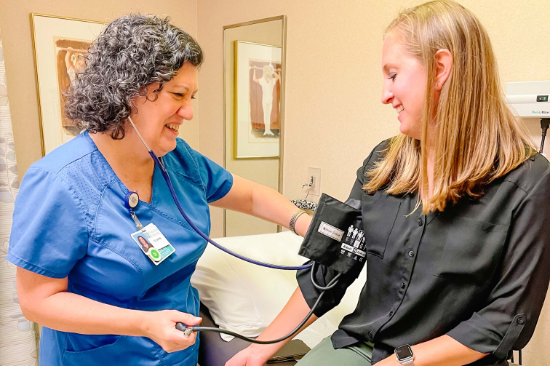 Continence & Treatment Options
It's no secret that losing bladder control can affect women in all stages of life. That's why at Pinehurst Surgical Clinic, our Women's Comprehensive Health and Urology Departments offer urinary incontinence testing and treatment plans.
If you're experiencing complications with your bladder, schedule an appointment today! Our specially trained Nurse Navigator is able to provide you with individualized care plans and will be your personal nurse throughout your treatment process. Get back to living the life you deserve and regain bladder control and self-confidence with Pinehurst Surgical Clinic today!
Treatment Options
Pharmacology: controlling the bladder muscle with drugs that act as acetylcholine antagonists on specific bladder receptors
Biofeedback: through sensory stimulation, biofeedback helps women learn to control and strengthen the pelvic floor muscles
Physical therapy: Physical therapy can help strengthen the pelvic muscles and support the pelvic floor.
Axonics therapy: a Sacral Neuromodulation therapy that is designed to provide a gentle stimulation to the nerves that control the bladder. The stimulation can cause an improvement of an over active bladder, bowel incontinence, or urinary retention.
Pessary placement: A pessary is commonly used to offer symptomatic improvement for women with incontinence.
Pelvic organ prolapse surgery: Control the flow of urine out of the body by repairing your body's prolapse.
Bladder surgery: Treat incontinence and strengthen your pelvic floor with one of our safe and effective surgery options.
---
Pinehurst Surgical Clinic is a multi-specialty clinic comprised of ten specialty centers located in a state-of-the-art surgical facility in Pinehurst, NC. Our OB GYN specialists offer a selection of medical services for gynecological issues at our Pinehurst and Sanford clinical offices, serving patients in Pinehurst, Sanford, Fayetteville, Rockingham, Lillington, Montgomery, and all surrounding areas throughout North Carolina, South Carolina, and beyond.